Productivity, performance and precision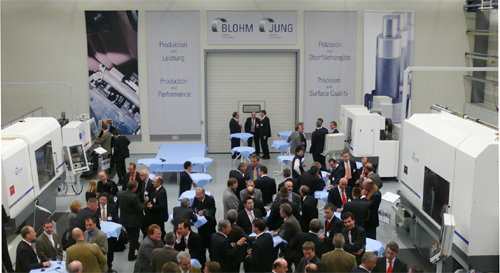 Productivity, performance and precision – three attributes which users worldwide associate with surface and profile grinding machines from BLOHM and JUNG.
The experience gained from over 35,000 delivered machines is constantly incorporated into further developments and innovations, increasing our customers' production efficiency even further. The product portfolio of Blohm Jung GmbH extends from surface grinding machines through application oriented universal machines to customer-oriented production machines.
Our service and technology specialists support our customers throughout the entire lifecycle of the machine. From grinding tests through training and maintenance contracts to retrofits, we offer our customers prompt and personal advice.
Special highlights are:
Modular design of the machines offers sophisticated solutions for almost any workpiece size
Varied machine applications can be integrated according to customer requirement
Automated grinding machines (including tool change, measuring and clamping systems)
Worldwide presence in the market segments of general mechanical engineering, bearing, automotive, hydraulic, tool making and turbine industry
Technology and demonstration centres (Hamburg and Göppingen) make extensive know-how available to customers
Technological leadership in the aviation turbine industry
Worldwide sales and service network for consultation and customer service directly on the spot
Help Line, remote service and field service for maintenance with system
Traditionally proven approach based on a strict quality code, combined with the use of cutting-edge methods (ISO 9001)